Missing teeth can ruin your self-esteem. You need a trusted solution that can boost your confidence.
Our dentists in Utah can construct a variety of dentures that can meet your goals and budget.
Dentures from Foothill Dental in Salt Lake City, UT, are lifelike and versatile. Learn what kind of denture is right for you.
Should I Consider Dentures?
If you have multiple missing teeth, dentures may be the solution. Patients who are missing multiple teeth may be candidates for partial dentures, in which prosthetic teeth are placed around natural remaining teeth. Full dentures are an option for those who have lost an entire upper or lower arch of teeth. Both partial dentures and full dentures can be removed.
For a more stable option, patients can also opt for implant-supported dentures. Dental implants are artificial tooth roots that help anchor the appliance in place.
Missing teeth can alter your health in ways that may not seem obvious at first. Dentures from Foothill Dental in Salt Lake City, UT, could boost the quality of your life in the following ways:
Look Younger
Missing teeth can make your cheeks appear sunken. Dentures will restore volume in your cheeks, giving you a younger appearance.
Improved Diet
Some foods become harder to chew with missing teeth, which could result in nutritional deficits if you avoid certain foods. Dentures give your bite more strength, giving you a wider option of foods you can eat.
Improved Speech
When you're missing teeth, some words become difficult to pronounce. Dentures will allow you to speak more clearly and not feel self-conscious.
Better Oral Health
Tooth loss could cause your remaining teeth to shift position, making them more susceptible to dental decay. Partial dentures can provide support for your remaining teeth, keeping them from shifting. Dentures anchored by implants can also prevent jawbone deterioration.
"Like No Other Dentist I've Ever Had"
I've had a great experience with Foothill Dental so far with straightening my teeth. David is awesome and is amazing at explaining the steps of your treatment. Super friendly staff as well. Thank you!
View on Google
Foothill Family Dental is like no other dentist I've ever had. I have been going for a few years now and not only are they prompt and efficient, they are incredibly friendly and take time to answer questions and explain.
View on Google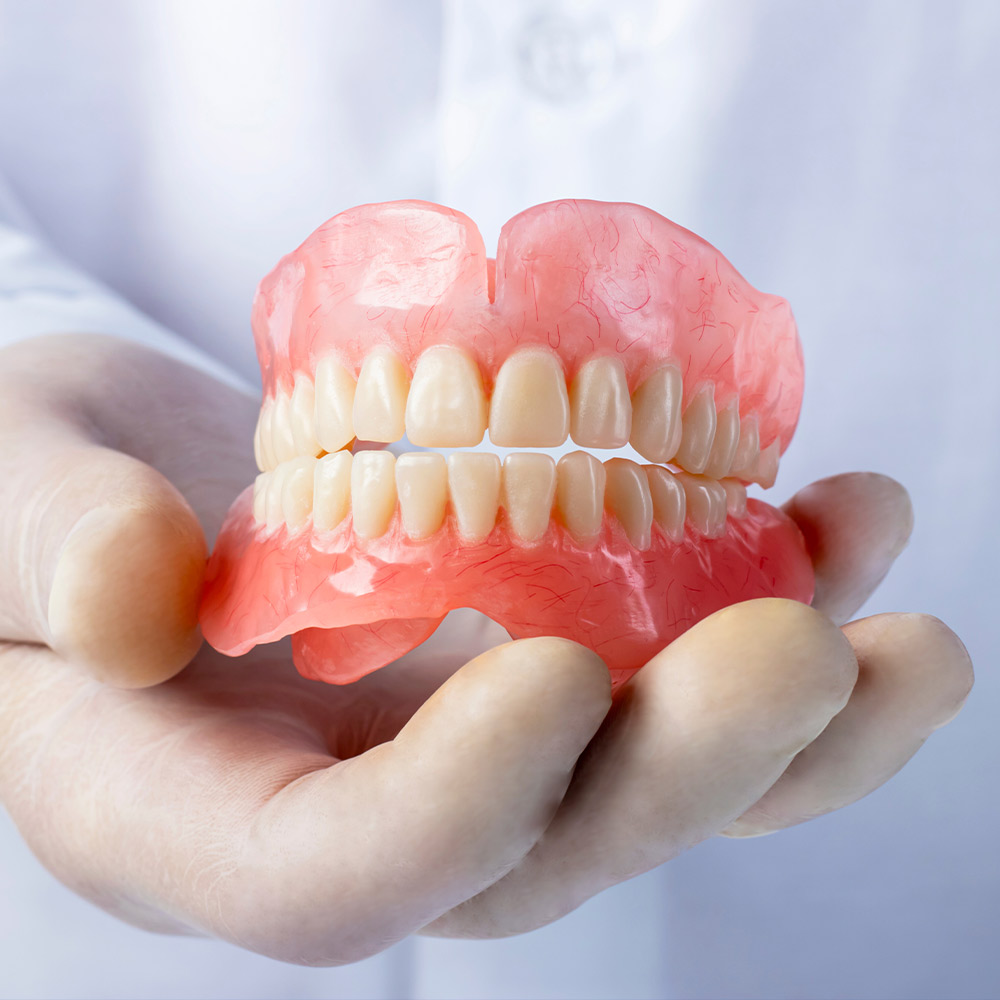 Traditional Full Dentures
Full dentures are removable prosthetics that generally have an acrylic base that fits over your gums. One set can replace an entire upper or lower arch of teeth. These dentures rest on the gums, bracing around the jawbone and tissue. Dental adhesive can be used for additional support and stability.
Partial Dentures
Partial dentures are ideal for a patient who is missing multiple teeth on their lower or upper dental arch. These types of dentures are held in place by small metal or acrylic clasps that attach to your natural teeth. Partial dentures do not replace an entire arch of teeth.
Secured in place with dental implants, this style of dentures is the most stable of all the options. The implants are surgically placed into the gum tissue and the jawbone. Dental implants eliminate the possibility of your dentures slipping out of place.
A Complete Transformation
Rinsing
Removable dentures should be rinsed to remove food and debris. Our dentists recommend you clean them over a towel or bowl of water to prevent damage just in case you drop them. You should also use a soft-bristled toothbrush to clean your dentures.
Soaking
The restoration must stay moist at all times to retain its shape. The prosthetic should be soaked overnight in water or a mild denture solution. Do not soak your dentures in hot water as the temperature may warp the acrylic material, affecting its fit.
Adjustments
Since the prosthetic is not secured with implants, removable dentures will have to be periodically adjusted and relined. Regular dental appointments at our office in Utah will ensure the dentures are snug and do not budge once they're in place.
If your full or partial denture is fractured or has become worn over time, you can come to Foothill Dental for denture repair. Our dentists work with a trusted local lab to fix damaged appliances.
The Dental Implant Treatment
Cost of Implant-Supported Dentures
Implant-supported dentures are a more expensive dentistry procedure than traditional dentures. Patients can expect to pay $3,500 to $5,000 for a denture treatment that includes implants.
Insurance typically does not contribute to the cost of dental implants, but we can work with your insurance provider to help with as much coverage as possible. Foothill Dental offers financing options to make the process affordable.
"Highly Recommend Foothill Dental"
I would 10/10 recommend this practice for anyone looking for a dentist in the area.
View on Google
Friendly staff, caring hygienists and dentist, luxurious feeling dental experience. Highly recommend Foothill Dental!
View on Google